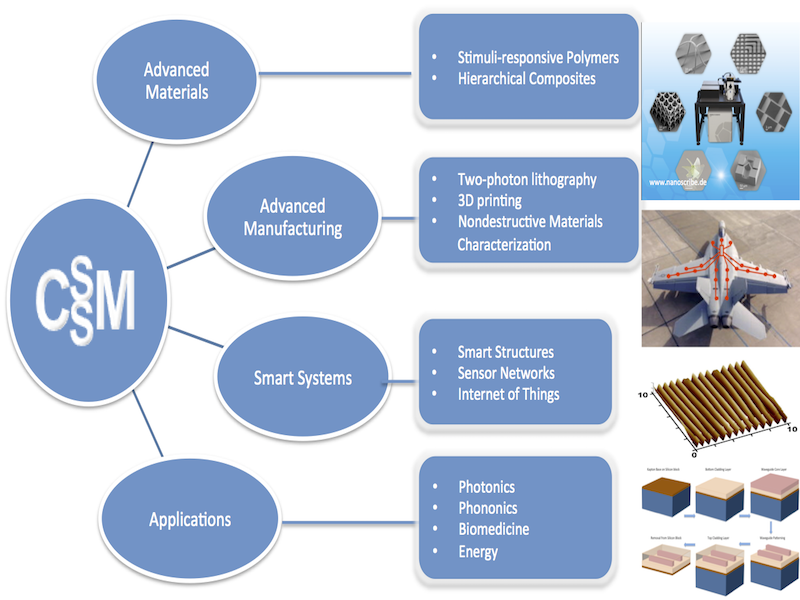 ---
Multiscale Fabrication
Nature has successfully integrated multiphase components at multiple scales to create remarkable functional devices. The mammalian ear is an example of a nonlinear electro-chemo-mechanical device that integrates multiphase components at multiple scales. The result is a remarkable sensor with large dynamic range (through a possibly active nonlinear amplifier) and exceptional frequency discrimination (through frequency-selective wave localization). The fundamental premise of this research effort is that such multiscale multiphase integration is essential for engineered systems to exhibit functionality beyond what is currently achievable.
Two-photon 3D Printing
Multi-Photon Direct Laser Writing
Assisted Surface Nanopatterning
Laser-Assisted Blistering
---
Smart Materials
We are developing stimuli-responsive polymeric materials for both 3D printing and 2D assisted surface patterning.
Stimuli-Responsive Polymers for 3D Microstructures
Optically Active Polymers
Metamaterials
Shape Memory Polymers for Assisted Surface Nanopatterning
---
Smart Structures
Smart Structures are structures that have integrated sensing capabilities, may offer unusual properties by virtue of their geometric or material design, or may offer the possibility of reconfigurability in response to external stimuli. We are developing fiber-optic and micro-optical sensors that can be intergrated into structures.
Mesoscale Integrated Optical Systems
Fiber-Optic Chemical Sensors
Fiber-Optic Dynamic Strain Sensors
Graphene-Based Thin Film Sensors
---
Materials Characterization
Photoacoustic techniques are a subset of ultrasonic methods wherein laser generated stress waves are used to obtain information about structural and material properties. In photoacoustic techniques, the ultrasound is typically also detected using non-contact optical detection, thereby enabling truly non-contact nondestructive characterization of the material properties of structures. Photoacoustic techniques have found application over length scales ranging from macro-structures to nanometer-sized thin films and coatings.
Picosecond Ultrasonics at the Nanoscale
Laser-Ultrasonic Sensing of Additive Manufacturing Processes
Photoacoustic Characterization of Thin Films
Photoacoustic Characterization of Defects
---
Structural Health Monitoring
Intelligent Structural Health Management systems facilitate taking timely remedial actions in order to prevent catastrophic structural failure by incorporating diagnostic sensor data for closed-loop prognosis of remaining structural integrity. We are developing both diagnostics tools for SHM (described under Smart Structures) as well as probabilistic prognostic tools to assess the structural integrity of safety-critical structures.
Prognostics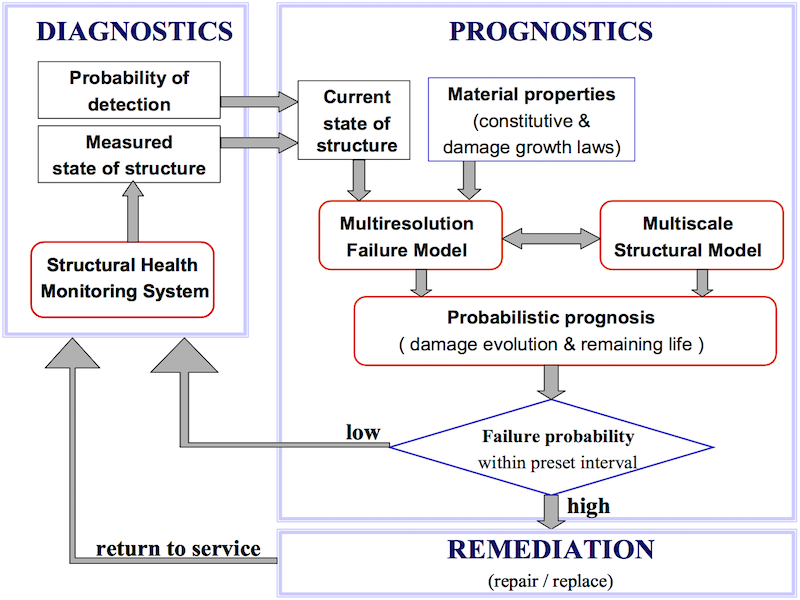 Research efforts in this area include probabilistic degradation models (SK & JDA), analytical modeling of scattering of ultrasonic waves by defects (JDA), and physics-based modeling of environmental degradation (JDA).
Back to top